Mange Club Events
Overview
Events can be anything you need to schedule for your club. Club meetings, weekend outings, grill outs and fund raising extravaganzas, anything you want your members to be aware of would apply.  

The Events section can be found within the My Account page while you are logged in. To open the Event interface, click the calendar icon located within your club's Action interface.
Adding Events
Editing Events
Deleting an Event
 
Adding an Event
In the Events section of your club, you can click the Add button at either the top or bottom of the events list to add a new event.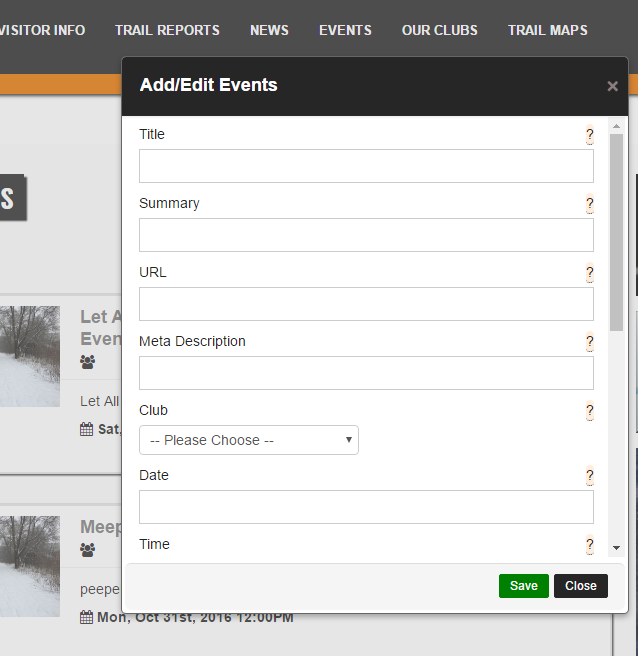 In the Add/Edit events page that is opened, enter the new event's details. Title, Summary, Date, Time, URL and Meta Description which are all required.  You may also add any other details that you feel will be useful to your club's members. The fields available are:

Title

What your event will be called

Summary

Summarize the information about this event in a few sentences. This information will automatically be added to the Meta description as well.

URL

If there is a website associated with this event, you can put a link to that web page here. If there is no site associated, website, a page will be created for you within Smarter Trails.

Meta Description

This should almost always be identical to the Summary, but you may edit it if you wish.

Club

If you are part of multiple clubs, you can chose which this event is for here. If you are only part of one, this cannot be changed.

Date

What date this event will take place

Time

What time this event will take place.

Image

You may upload a file to be displayed with this notice here. To do so:

Click on the Choose File button

Select an image from your computer

Press Open to accept the file to be used

Content

Please include all the information you would like to display for this event. The text editor provided will allow you to stylize the text however you desire.

When you are satisfied with your event's details, click the Save button to register the new event.

If you would prefer not to create the event after all, you can cancel with either the Close button or the X in the top right corner of the Add/Edit event window.
Editing an Event
Navigate to the Events page. For help on finding the club events page, click here

Click the Edit button on the event you wish to modify.

All of the details that were entered when the event was created will be displayed, allowing you to update them to suit your needs .

When you're done, just click Save and the changes will be displayed for your users

If you decide to discard the changes, you can click either the Close button or the x in the top right corner and the event will remain unchanged.
Deleting an Event
To remove an existing event, navigate to the club events page.

For help on finding the club events page, click here

Click Delete on the event in question.

A confirmation alert will ask if you actually wish to continue.

Press Yes if you're sure. This cannot be undone.

Press No if you've changed your mind