Manage Advertisers
Overview
Sponsors can make financing an organization much easier, but the trick is always finding something to give them in return for their contributions. Smarter Trail's advertising tools make this easy, providing ad placement where it matters most. You can offer better placement in your site's food and places sections, image ads that will be added to your club's side menu rotation without being offensive, exposure to people who are likely to be genuinely interested in their services and so much more.
Manage Advertising Campaigns
From the Site Admin page, click on the "Manage Advertiser Campaigns" link which will take you to the "Advertiser Campaigns" page.

From the "Advertiser Campaigns" page, you can Add or Edit advertiser campaigns.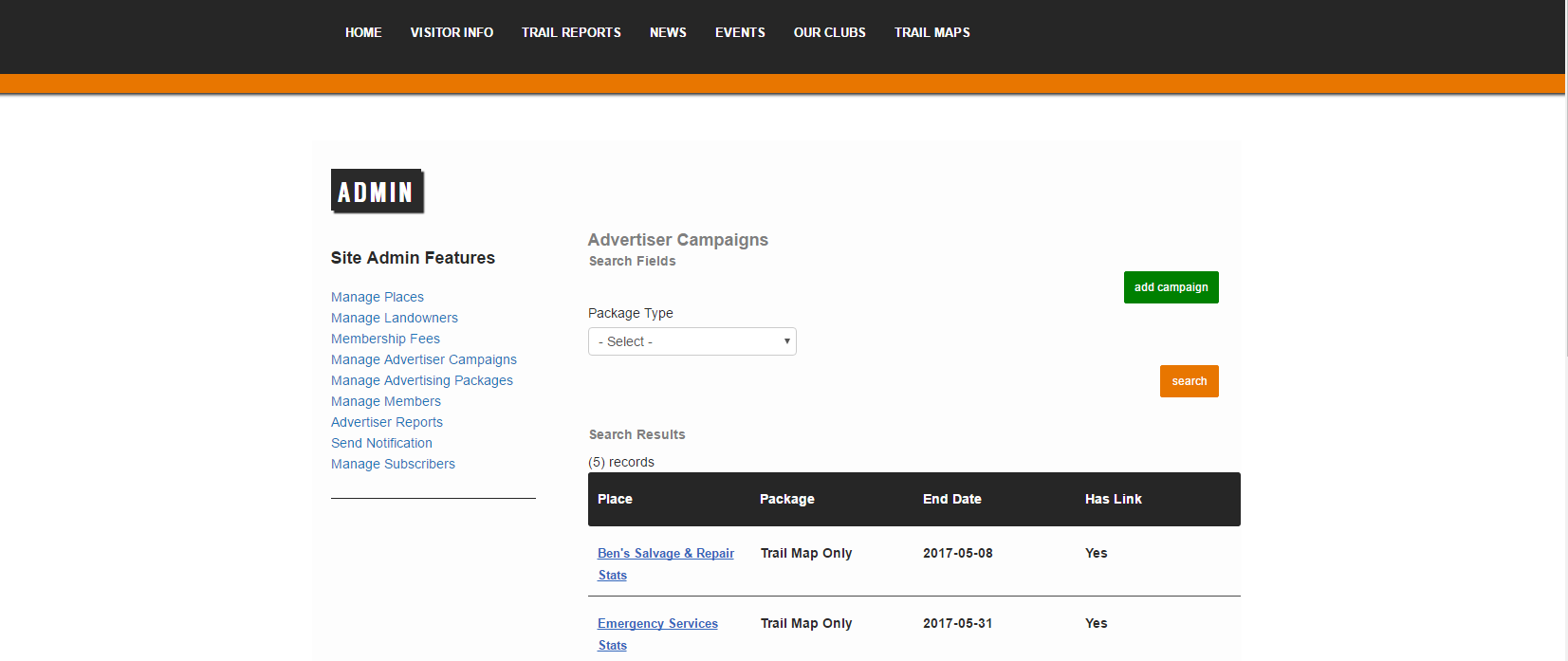 To add an advertiser campaign click on the "add campaign" button.

The "Add/Edit Advertiser Campaign" form will be displayed
Add a Advertiser Campaign

Advertiser Name

Select Advertiser Package from drop down

Or click on the "add place" button to the right of the drop down

Select Advertiser Package from drop down

Add start date to text field

Add Link for advertiser in text field

Will this Campaign Be Active Immediately?

Yes will make active right away

No will save the information and you can change to active when you are ready

Upload image for advertiser

Standard image types allowed (.jpg, .tif, .gif, .png)

Minimum recommended size of 300x300 pixels

Larger images will be scaled to a maximum width of 300 pixels

Save to create the Advertiser Campaign or Cancel to cancel the work you have done
The "add place" button will allow you to add a new place that can be selected as an advertiser.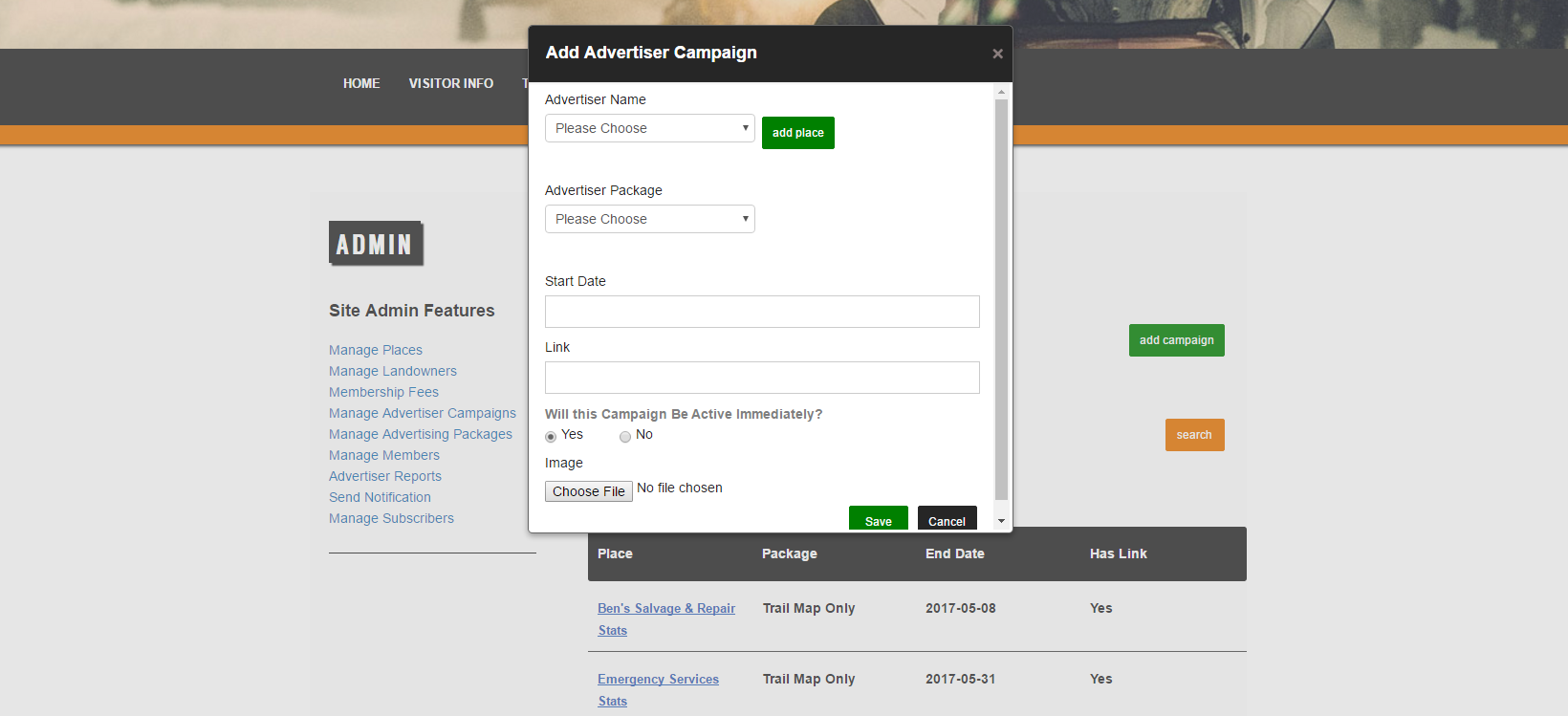 Select Package type from the drop down then press the 'Search' button to search the advertiser campaigns

Package type

The complete Package

Trail Map and Website

The Trail Map Only

The Website Only

Without Filtering with 'Search' Select a place by clicking on the name in the 'Search Results' below for Campaign Report

This shows how many clicks and impressions the ad has gotten over the month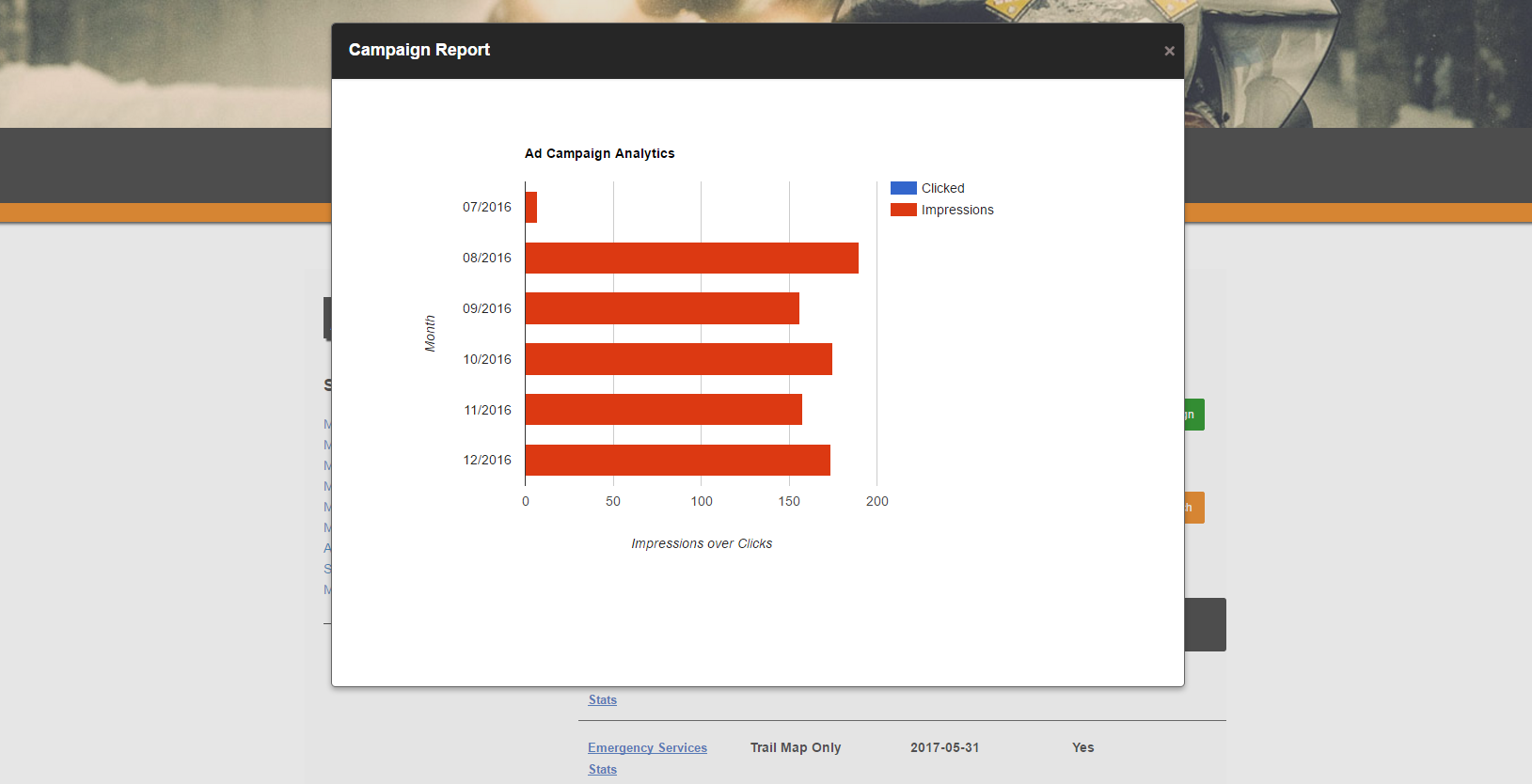 Manage Advertising Packages
Advertising Packages your way of keeping track of how much an advertiser will play and the duration of the advertisement.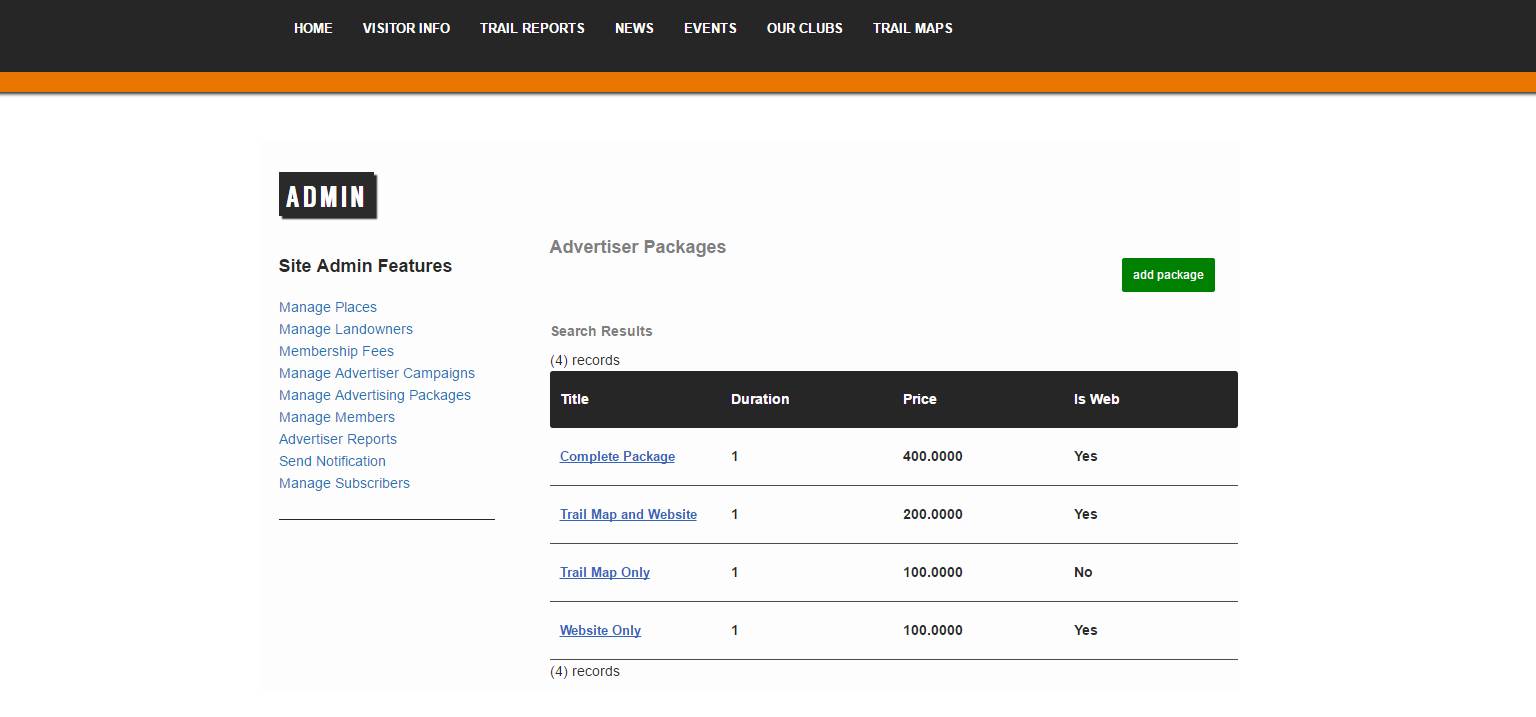 Add Package

Add Advertising Package Title *required into text field

Add Total Price *required into text field

Website Advertisement

SmarterTrails charges $50.00 for each Full Website Advertiser.  This is for your club Advertiser to have there link and Logo on your SmarterTrails Website.

SmarterTrails charges $10.00 for each Link Only Advertiser.  This is for your club Advertiser to have there link on your SmarterTrails Website.

No charge! This is to help you keep track of non web advertisers your club has.  Any Campaign assigned to this package will not be displayed on your SmarterTrails website. 

Add advertising package description

Duration In Years *required into text field

This is how long the Advertising Package will run

Save to create the Advertiser Package or Cancel to cancel the work you have done